Overview
luxury lap desk gives you the freedom to work or play in your favorite location with the ultimate lap desk!
Detachable Bluetooth Stereo Speakers
Premium Leather Surfaces
On-the-Go Power Bank Battery
Up to 3 LED Lights Simultaneously
Concealed Adjustable Legs
Modular Mouse Pads
Small Device Slots
Modular Design for Future Upgrades
A computer desk with a perfect blend of form and function.
Introducing
Your corner office right in your lap

Premium Features

Transforms Any L ocation
into a Premium Corner office

Bed
Couch
Favorite Chair
Outside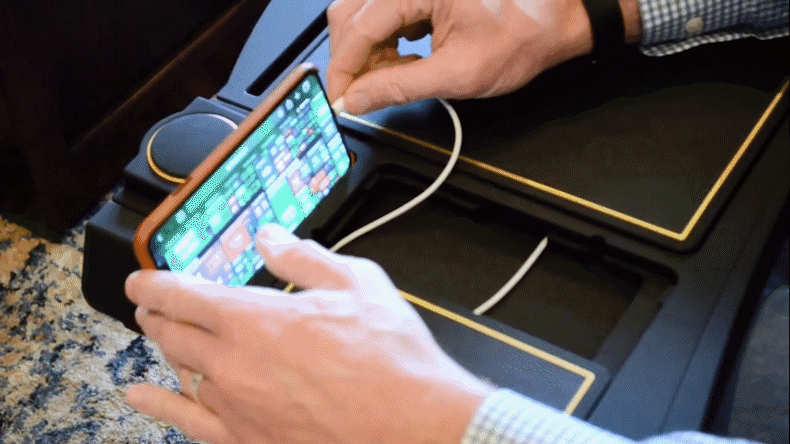 Wherever you love to work or play!

Premium, Modular Lap Desk
The ergonomic design can be comfortably placed on your legs, or supported on any surface such as a sofa, bed or chair.
The desk itself has a lot of space and can be used for writing or laptops (up to 19 inches), tablet or smartphone, mouse, removable cup holder and note tray, and for Accessories for Bluetooth speakers and LED lights.

Inside Storage Features

The storage box opens to expose the storage area for paper, wires, portable batteries, pens, styluses, and other items.
The internal portable and rechargeable power bank can charge tablets, mobile phones, LED lights, and most laptop computers and any other electronic devices.
The integrated cable management function allows tight storage without causing unsightly and inconvenient cables.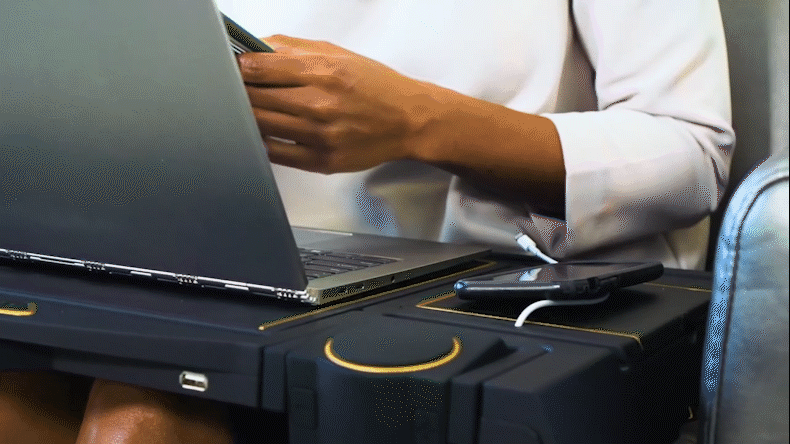 Stowable, Extendable Legs
Its legs can be easily adjusted to fit the height of the work space, thereby improving comfort, posture and health. When not needed, they can also be folded into the compartment for storage.

Materials:
Leather work surface
Aircraft-grade CNC aluminum legs
Color:
Comfort Webbing
Removable Bluetooth speaker system
Up to three LED lights
Rechargeable power bank
Central work area 一Leather surface Opens to storage area
Modular mouse pad
-Leather surface mouse
-Re movable
-Cable management slot
Phone Slot
3x external USB slots,1x external type C USB power connect 2x internal USB for speaker system
Module (Cup holder shown)Speaker module can be inserted
Tablet Slot
Module (Notepad holder shown)Speaker module can be inserted
Phone Slot
Modular mouse pad
-Leather surface mouse
- Removable
- Cable management slot
Ergonomic rubber bumper
Latch
Folding legs Hidden when not in use Two custom extensions